ALL FOR METAL

When the mission is so clear, one can - no MUST - express this unmistakably. And so, under the banner of ALL FOR METAL, the metal enthusiasts Tim "Tetzel" Wagner (known as the singer of the band Asenblut as well as a strength athlete and fitness influencer) and Antonio Calanna (the tenor of the tenors) join forces. Both are united by their love for classic heavy metal sounds and the common vision to bring them to a new generation of music fans. With great, compact, catchy songs and a dedicated, highly professional production team behind them, ALL FOR METAL unleash anthemic, straightforward metal that has international class.
"We grew up with bands like Manowar, at whose concerts the audience is overwhelmed by the energy," says singer Tetzel. "That's where strangers are in each other's arms and fervently belting out the songs. This invisible bond, this connection, is created through the music alone." His vocal counterpart Antonio adds, "I've only experienced such a sense of community in the metal scene. With ALL FOR METAL, we want to help pass this on and let as many music fans as possible share in it."
Right away, the first jointly pre-produced song "All For Metal" (introduced in proper style by heavy anvil strikes) with its pounding rhythm, catchy guitar riffs and earworm refrain, is a real hit. Not coincidentally, the lyric line "It's all for Metal - and Metal for all" evokes a cohesion here that unites across ages and genders.
Euphorized by this early songwriting success, another number was subsequently created with "Born In Valhalla", which is no less impressive. In the third song "Raise Your Hammer" folky echoes mix into the catchy heavy metal sound. Unifying element here again: The great chorus - not least by the experienced producer Hardy Krech (Elephant Music Flensburg; Kissin' Dynamite, Beyond The Black, among others) perfectly staged.
It is already clear: Antonio's powerful melodic metal clear vocals and Tetzel's rather rough organ harmonize perfectly with each other and give this promising new band that certain something. The muscular giant Tetzel and the charismatic Antonio are supported by Jasmin Pabst, Ursula Zanichelli, Florian Toma, Leif Jensen, Christina Schulz and Luisa Lohöfer.
Support our Crowdfunding Campaign
"THE YEAR OF THE DRAGON"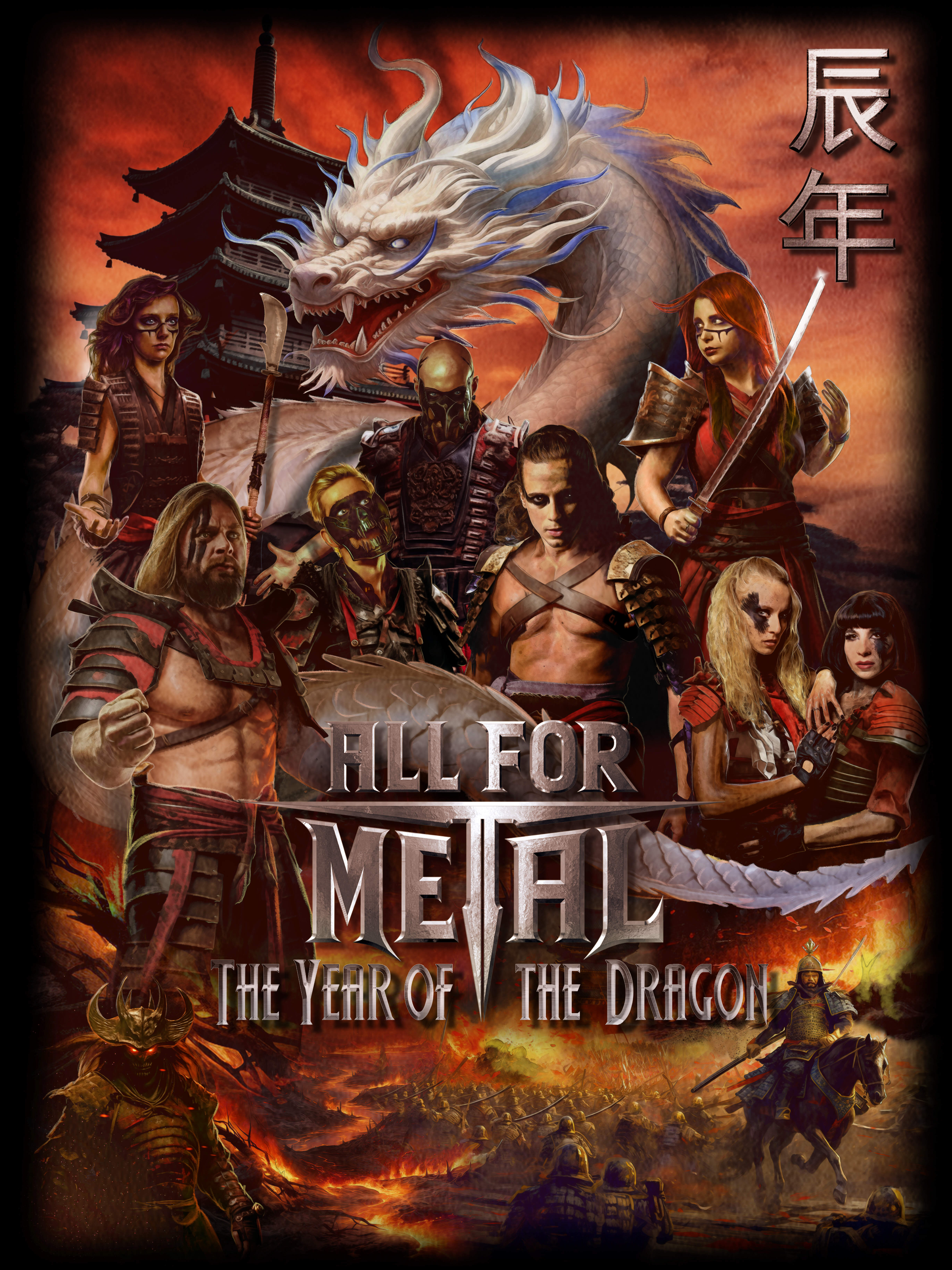 Let's do this journey together: We want to shoot the most unique music video of our career. We got the song, we just need you! Will you be part of it?
All the way back in 2022 ALL FOR METAL was born. This year we set the sails to embark on a journey to spread the epicness of metal music around the world. Our second album is on its way and we want to discover a whole new fantastic world with you musically and visually: JAPAN! In order to give you - our fans - the perfect immersion we got the crazy idea to travel to Japan to shoot our music video for "THE YEAR OF THE DRAGON", giving tribute to the landscapes and culture that inspired the song.
We need your help to found our new bombastic music video which is gonna held in Japan!
⬇️⬇️ Link here below ⬇️⬇️
Latest News
Simple Social Media Stream: There is no feed data to display!